8 emerging labels to watch, according to an Australian stylist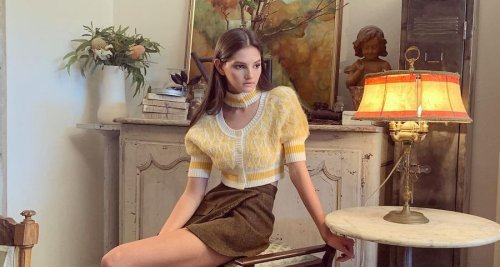 The new designers making ripples.
Is it just me, or does 2022 feel like it's passing at lightning speed? It's a time of tentative rejoice – we've finally emerged from our pandemic cocoons, a little weathered but fired up and ready to get back into action.
For many emerging designers, shuttered events and cancelled shows allowed them time to hide away in their studios and sharpen their skills. Years of quiet work refining concepts and crafting pieces have prepared them for the hustle of today.
For more fashion news, shoots, articles and features, head to our Fashion section.
As we return to the busy fashion scene we once knew and loved, some new players have joined the mix. For the fans, discovering a label with less than ten thousand Instagram followers can feel like joining a secret club.
Though it can sometimes be tempting to keep the secret to ourselves, these growing brands need all of the support they can get to cement their place in the industry and continue making the clothes we can't wait to wear. And as an official media partner of this year's Melbourne Fashion Week (MFW), Fashion Journal is excited to spotlight the emerging labels featured in this year's program.
No one knows this more acutely than stylist, creative and art director Carlos Mangubat. With his continuous involvement in MFW and his finger on the pulse of Australian fashion, it's his job to keep track of the new designers making ripples.
After interning at fashion week for four years throughout his studies, Carlos is busy styling for multiple brands at this year's event. He found a moment in his schedule to dish out the details on a few emerging Australian designers to keep an eye on.
Mastani
Kudrat Makkar, Mastani's founder and creative director, wants to re-envision her cultural heritage through clothing for the modern woman. "Whimsy and classic, this brand serves me high end on a platter," says Carlos.
"The design of sheer overlays and luxe fabrics [is] what makes this brand super unique and beautiful. I'm actually excited to see what she makes over the next couple of seasons." Mastani's refined garments are handcrafted at the brand's atelier in Bengaluru, India, by a small team of craftspeople using traditional, age-old techniques.
Mndatory
"The menswear market is quite boring in Australia, however, this brand gives us a twist on the classic wardrobe pieces," says Carlos. While studying optometry, Brian Hyunh came to realise his true love was design, so he made a swift pivot to creating innovative, intricately tailored menswear. Dripping with panache, his pieces have a timeless air that makes them a quality investment.
House of Campbell
If you're looking for playful, feminine garments with a modern edge, House of Campbell is the one to watch. Think oversized puff sleeves, voluminous tiered dresses, and endless ruffles of tulle.
"First time coming across this brand, but there [is] massive potential," says Carlos. "This season, [they're] creating heavy tulle layered garments, with kind of a Simone Rocha feeling – this brand is creating a new voice for occasion wear," says Carlos.
Alix Higgins
Can you truly call yourself an Australian fashion person if you don't have an Alix Higgins printed tee hanging in your closet? Glitchy and extremely online, Higgins's work blends ethereal poetry with skin-tight club wear.
https://play.acast.com/s/633c0b4c4c5d170011b48183
https://play.acast.com/s/633c0d7f6f48920012acfd74
https://play.acast.com/s/633c0bff2ec76300129edb94
https://play.acast.com/s/633c0dfb47b6d20012a9104a
https://www.podpage.com/2022-twhd_4k-1080p/
https://www.podcasts.com/2022-twhd-4k-1080p
https://issuetracker.google.com/issues/250834207
https://issuetracker.google.com/issues/250833574
https://vk.com/@690834274-2022-hd-720p
https://vk.com/@luanpascil21-online
https://vk.com/@biorka-2022hd
https://play.acast.com/s/633c15e82ce407001122fb63
https://play.acast.com/s/633c166ed46617001283af2b
https://issuetracker.google.com/issues/250839180
https://issuetracker.google.com/issues/250839162
https://www.podpage.com/-2022-1080p/
https://www.podcasts.com/2022-hd-720p
"Contemporary and very of the moment. This brand is delivering on what we want now," says Carlos. Sported by cool people like Hunter Shaefer, Rita Ora and Grimes, Higgins has the kind of momentum that makes it feel like he could be at a very different place in a year to come.
Bullé
Designer Naima Bullé is an expert in crafting flowy, flattering pieces that are unquestionably luxe without showing skin. "A brand new to my radar, but I can see their potential in the modest wear market," says Carlos.
Knotted waists, flared sleeves and feather detailing make for creative silhouettes crafted from materials like textured crepe and plush velvet. "Trend oriented yet equally as classic, more brands in Melbourne and Australia, in general, should take a note from this brand and cater more for this ever-growing market," Carlos says.